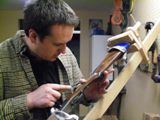 I was born and raised in Western New York, currently living in the Rochester, NY area.  I am a gunsmith specializing in stock work and restoration/repair of firearms.  My focus is in vintage sporting guns with an interest in SxS shotguns.
As a general practice, I believe in doing things one way, and that is the right way.  The collector interest in and value of many of these firearms is pretty significant.  And it is of the utmost importance that the work done is as correct as possible.
I hold a Bachelors of Science in Studio Art from Roberts Wesleyan College.  Art of all forms has been a life-long interest and creative expression through some outlet is my purpose in the work I do.
I am a member in the Parker Gun Collectors Association, The A.H. Fox Gun Collectors Association and the Lefever Arms Collectors Association.
BMD Gunstocks is a member of the NRA Business Alliance and is Fully Insured.
In-House Services include:
Stock making and duplication
Fitting & Finishing of semi-inletted stocks
Stock refinishing and repair
Hand cut checkering
Recoil Pad, Buttplate and Grip Cap installation
Shotgun Barrel Dent Removal
Rust Bluing & Nitre Bluing
General Repair and Cleaning
Firearm Sales and Transfers
Through work with other vendors, full firearm restoration is also available.
Most prices are quoted by the job.  Especially for Stock Making and repair.  Please inquire for a quote.  All prices are plus 8% sales tax for NY residents.  Prices are plus return shipping and insurance for out of state residents.
General labor rate: $50 per hour.
Checkering: $50 per panel (base starting)
Recoil Pad and most buttplate Installation: $50.00 (labor) (pads and plates with spurs can be additional charge).
Rust Bluing of barels: $350 (starting)
Long Gun Transfer: $25.00  —  Hand Gun Transfer: $50 (Local Transfer prices are plus tax)
Restocking: $1,500 starting labor for Boxlock, $2,500 starting labor for Sidelock.  Wood is additional.
Tear down and cleaning of SxS shotgun action: $100